Poet, Western Humorist, and Emcee
"If cowboy poetry was fresh milk and the cream that rises to the top was the very best, then Doris Daley would be very rich and very fattening." So says renowned cowboy ambassador Waddie Mitchell about an Alberta ranch girl whose love of wordsmithing has made her one of North America's favourite western poets, emcees and western humorists.  Born and raised on a family ranch in the foothills of Alberta, Doris's authentic, sparkling poetry has taken her to campfires large and small, to highways, roundabouts and gravel roads throughout the west, and to concert appearances with the Reno Philharmonic Orchestra, the Smithsonian Folklife Festival and the Saskatchewan Opera Company. With a performance career spanning more than 20 years,  Doris is a frequent performer at corporate and community events, Christmas parties, private parties and cowboy poetry gatherings.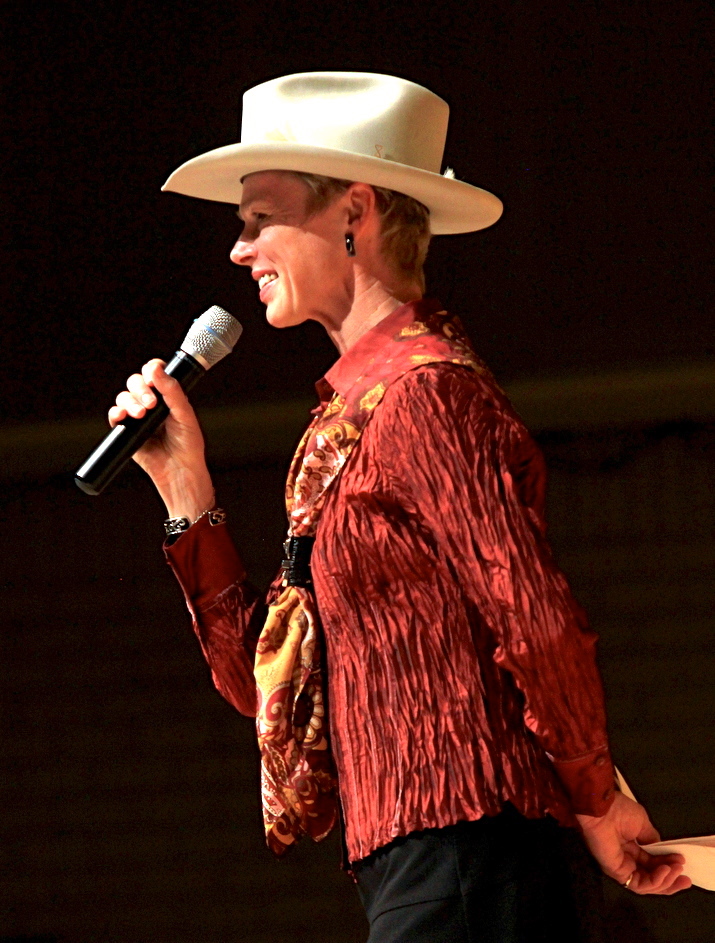 What Others Say about Doris Daley
"Doris Daley writes like Fanny Sperry Steele rode broncs: with skill and grace and a lot of class.  Dave Stamey, Singer/Songwriter 
"The world of cowboy poetry will forever be beholden to a Canadian Cowboy Poet named Doris Daley. Doris is the preeminent female poet in this genre and the equal of any male writing today. In my opinion, she is the female Robert Service. Doris's verbal paintbrush is as captivating and as visual as the paintings of Russell and Remington. If you want to know the West, listen to Doris Daley. Her gift is unique and her appeal is irresistible.  Jack Hannah, Sons of the San Joaquin, Fresno, California 
I had never heard of this genre before and didn't know what to expect from a cowboy poet at Alberta Showcase. Well, my expectations were completely blown away! Doris Daley had us engaged throughout her entire performance and we were left wanting a lot more.  Toni Siegle,Westlock Cultural Arts Theatre Series 
"Lots of poets can write, many can recite, but Doris writes, recites and really communicates.  Spontaneity, wit, meaningful words and a winning smile make this lady a performer you'll always remember."  Hugh McLennan, Kamloops, Western Broadcaster, Entertainer, and host of Spirit of the West. 
"We had nothing but positive feedback about Doris's performance at our conference. She delighted the entire room and they were hanging on every word. We could not have asked for anyone better."  Brenda Moon, Alberta Farm Women  Conference 
"On stage and on the page, she represents the best of the best in cowboy poetry today."  Margo Metegrano, www.cowboypoetry.com 
"Doris Daley is a pearl...just a dang shame she's not a Texan."  Don Cadden, Texas Cowboy Poetry Gathering, Alpine, TX 
"A consummate artist, a heart warming story teller, and one of the finest cowboy poets writing today."  Bruce Innes, Singer-Songwriter and Music Producer, Sun Valley, ID
"She also bakes great butter tarts."  Doris's mom Melva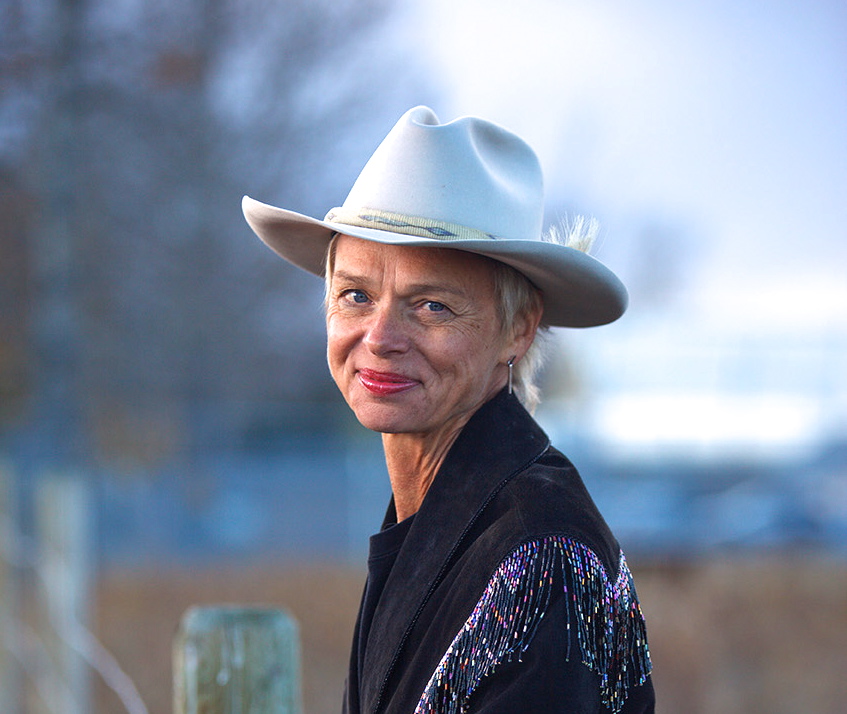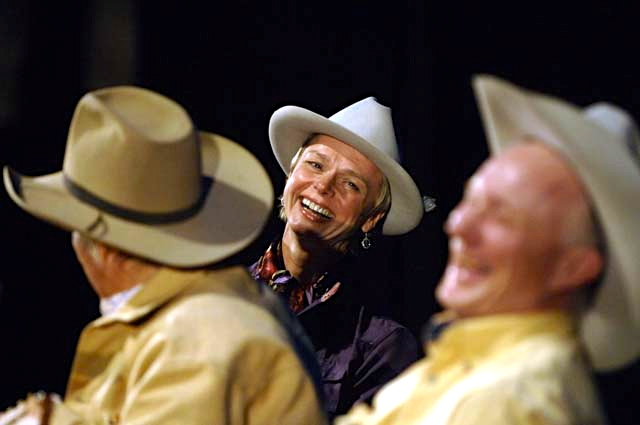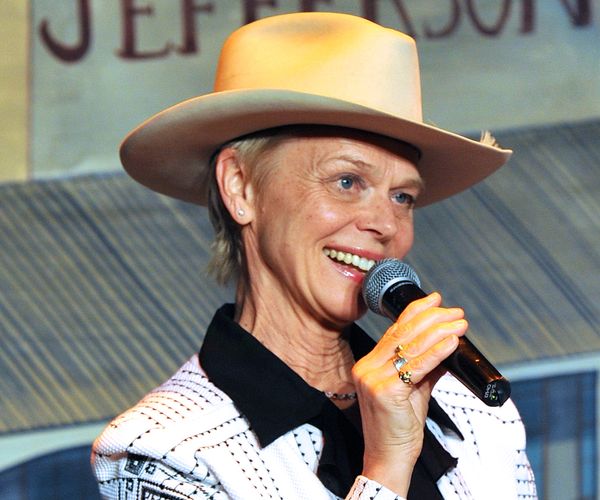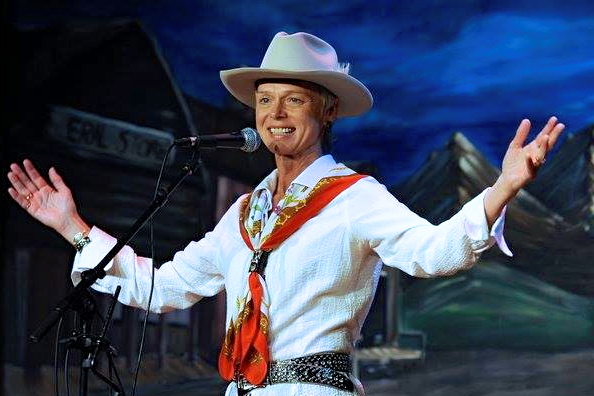 A Woman with a Past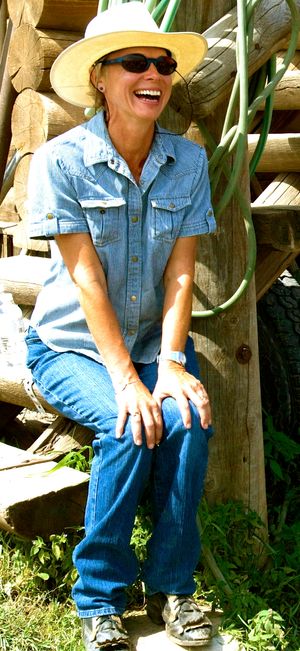 Every cowboy poet should have a textured past. Doris's includes performances for Parks and Heritage Canada, Rural Women's Conferences, Globus/Cosmos Family of Tour Companies, Arizona Folklore Preserve, Calgary Stampede Foundation, San Antonio Library Foundation, United Church of Canada, On the Edge Concert Series of Red Deer Lake; World Angus Congress.  In addition, she has made frequent appearances in Alpine, Texas; Elko, Nevada; Sierra Vista, Arizona; Kamloops, BC; Stony Plain, AB; Golden, Colorado, and many more.  No convention centre too big, no community hall too remote, she comes from a gene pool that includes ranchers, cowboys, Mounties, good cooks, sorry team ropers, Irish stowaways, bushwhackers, liars, two-steppers and saskatoon pickers.
The "TED" Talk: Doris Daley on TEDxCalgary